Many moons ago, when the Godfather and I were first married, we lived in Georgia for a time. Not in Atlanta, where most young professionals go, but in a tiny town near Macon, in the Central Georgia countryside. It was a lot of fun for us city kids. We went to the county fair every year, hung out for college football watch parties with friends, and had late night runs to Waffle House after events since it was the only place open. I may not have known it at the time, but that was also the very early beginnings of Goodie Godmother, because it was in Georgia where I really expanded my cooking horizons and got into things like baking bread from scratch.
The South is a place where college football is eagerly anticipated and everyone starts getting antsy for the start of the season as early as the beginning of July. Everyone has their team, actual alumni and sidewalk alumni alike, and water cooler talk centers around players signed, coaching changes, strength of schedule, and friendly ribbing. Even though we cheer for an ACC team in our house, Go Canes!, it was hard not to get caught up in the SEC spirit, especially when they embraced us into the conversations too, despite being outside the conference.
We would frequently attend or host casual watch parties at various friends' homes. The host would usually provide a main dish, and everyone else would pitch in potluck style with sides, desserts, and drinks. You'd show up whenever, and the game on at the moment would be selected based on which fans were there at the time, and the host's team. It was a lot of fun!
Those football parties are where this dip earned its name! The original recipe came from a brochure I picked up at the state fair at the Onion Board table, and it had an assortment of Vidalia onion recipes. This hot onion cheese dip was one of them, but it only used one kind of cheese and more mayonnaise. Not something I would typically make, but I decided to try it one Saturday when we happened to have a lot of cheese in the house leftover from another recipe, and onions. I figured if it didn't turn out, no big deal. Not only did it turn out, it was DEVOURED in about 5 minutes flat and promptly requested for future parties. If you weren't one of the first to get to it, the chances you were getting more than a bite were slim to none.
Make it up to a day in advance and refrigerate until it's time to bake, serve hot with tortilla chips, and get ready for some football!
Be sure to scroll past the recipe for even more tailgating inspiration!

The Godmother's Famous Baked Onion Dip
You'll love this creamy, cheesy baked onion dip recipe! It's a hit at parties!
Ingredients
3 cups chopped Vidalia onions (sweet onions), about 1 1/2 large onions
1 cup shredded sharp cheddar cheese
1 cup shredded mozzarella cheese
1 1/2 cups shredded Swiss cheese
1/2 tsp garlic powder
1/4 tsp black pepper
1 1/2 cups mayonnaise
fresh chives to garnish (optional)
Tortilla chips for serving
Instructions
Preheat your oven to 350 F
Stir together all ingredients in a large mixing bowl and pour into an 8" round baking dish (or square, whatever you have), Place the baking dish on an aluminum foil-lined baking sheet to catch any possible drips.
Bake for 40-45 minutes uncovered until the cheese has melted and is slightly golden. Top with fresh chopped chives or other garnish if desired, and serve warm with tortilla chips.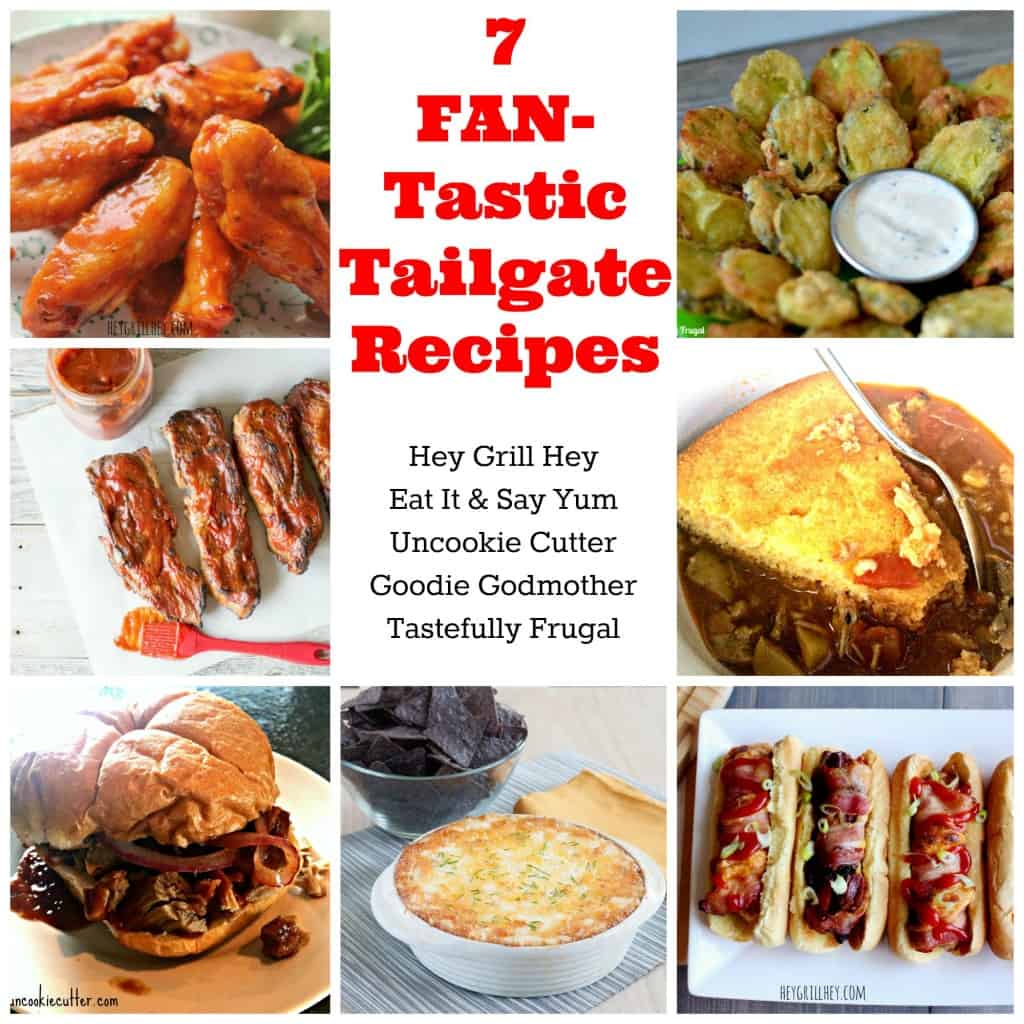 Ultimate Buffalo Chicken Wings|Hey Grill Hey Country Style Barbecue Ribs|Eat It & Say Yum Barbecue Beef Sandwiches|Uncookie Cutter Famous Baked Onion Dip|Goodie Godmother Fried Pickles|Tastefully Frugal Brunswick Stew|Uncookie Cutter 5 Epic Stuffed Hot Dogs|Hey Grill Hey